CUSTOM SHADE VS. GROUT EXPLAINED
Well, where do we start?


Let's start with traditional "normal" stamped concrete. Most stamped concrete that you may have seen is a traditional 2-color process. This is where we use one "base color", such as medium gray, which is the predominant color of the patio, and the 2nd color is the highlight color, such as charcoal, that goes into the crevices of each "stone", and also becomes your grout color. This "marbling" in of the highlight color happens as part of the stamping process. This process produces a beautiful 2-tone result, and has been the basic process of stamped concrete for the past dozens of years.

Now for the exciting part!

More recently, we've come up with an innovative variation to the traditional stamped concrete process that arguably produces the most realistic and natural looking concrete you've ever seen!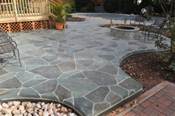 Instead of "marbling" in a highlight color while the concrete is being stamped, instead, we apply several highlight or shading colors a couple days later, ie once the concrete is dry. And, if you can believe it, it's not just that one highlight color anymore, we have chemicals that can produce many natural earth tones as the accenting or shading that we can do on each individual stone. We typically use three or four accent colors to produce a multi-color flagstone or bluestone style. We also apply tan or gray grout in between the "stones" to give a stunning and beautiful natural grouted appearance.

Note: These patios are sealed with our acrylic sealer, so don't worry … no added grout maintenance!

How much … and, which shading colors do you get?  Good question. We always invite our customers to be there onsite the day we are doing the accent coloring so that you "direct the show!" … we will teach you how the process works and you will get to select the colors, quantities of each color, and intensity of the colors to the precise style that you like. You can actually participate in the work if you'd like!

Side Note: Once we invited a customer to be with us to direct the shading process, and she said "… are you crazy?  I'll be at work!  If I am there and give my opinion it will look horrible … you guys do your thing! Your work is beautiful and I trust you to make my patio look outstanding … I will love it! "         We did, and she did!

We have been doing this technique for about 4 years now and customers and friends of customers who see this work couldn't be more impressed! Several arguments have been reported between customers and their guest … "WHAT? THAT COULDN'T BE CONCRETE!" …. And so on …..

Ask more about this when we meet … we will go through all the details specific to your job.

Really, it IS concrete!